TV / Film / Theater Crew
Mar Omega is well versed in many aspects of television and theatre production. He worked at MSNBC from 2004-2007 and CNBC from 2004-2009 as a camera operator, steadicam utility, steadicam trainee, robotic camera operator and video/lighting technician. He has worked as a lead in-house carpenter grip at Raritan Valley Community College's professional theatre for Tap Dogs and The Moscow Ballet. If you have the equipment and need a professional operator or a grip who knows what he is doing, contact Mar Omega.
See Resume
Day Rate: $450 (Or $60 / Hour, 4 hour minimum)
Artwork
From traditional painting to cutting-edge digital art, Mar and Kyra Omega can create whatever your imagination desires. Their styles range from fantasy art to anime and American cartoons and from realistic to exaggerated caricature.
See Art Portfolios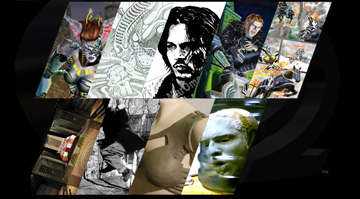 Prices vary, based on $50 / hour.
Design
Need a corporate logo, letterhead or package theme? The proprietors of Mar Omega UNLIMITED have been designing trademarks for over a decade. Mar Omega has studied graphic design, industrial design, art, graphics and drafting and has several certificates and diplomas to verify his education.
Design Portfolio Coming Soon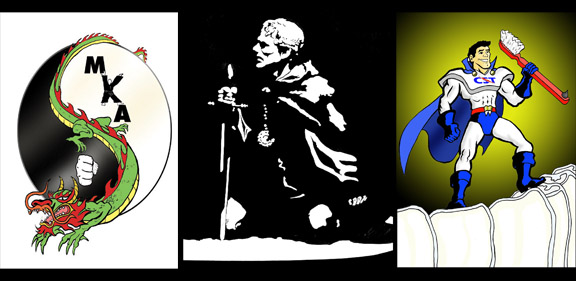 Prices vary, based on $50 / hour.
Set Design
For occasions where the setting is important, trust Mar Omega UNLIMITED to create your set. Mar Omega has designed, constructed, painted and decorated sets for professional theaters, trade shows, shopping malls, stores, television studios and even worked on Broadway sets. Mar Omega's sets are structurally stable and safe with recommended use use. We pride ourselves in our masterful carpentry that exceeds the standards of traditional set design. Where the other guy cuts corners because he thinks "it doesn't matter at that distance", Mar Omega will make sure that every piece out of our shop is aesthetically pleasing at any distance.
See Set Portfolio


See Resume
Fabrication
Mar Omega has honed his life-long passion for carpentry, sculpture and special effects to create high-quality originals and reproductions for commercial or home use. Mar and Kyra use silicones, resins, latex, leather, fabrics, wood and metal to create props, costumes, armor, special effects and monster makeup. Mar and Kyra Omega are masters of many trades such as carpentry, chainmaille and costume design.
mold-making silicone, alginate, plaster or gypsum for life-casting or copying sculptures.
3D copies positive casts in several media such as latex, plaster or resin.
chainmaille hand-crafted armor and jewlry with special designs and weaves.
latex body part props, monster makeup applique, masks, flexible costume armor and rubber weapons for reinactment role playing.
scrollwork intricate patterns and accents cut from wood.
sewing authentic clothing by Kyra Omega.
See Fabrication Page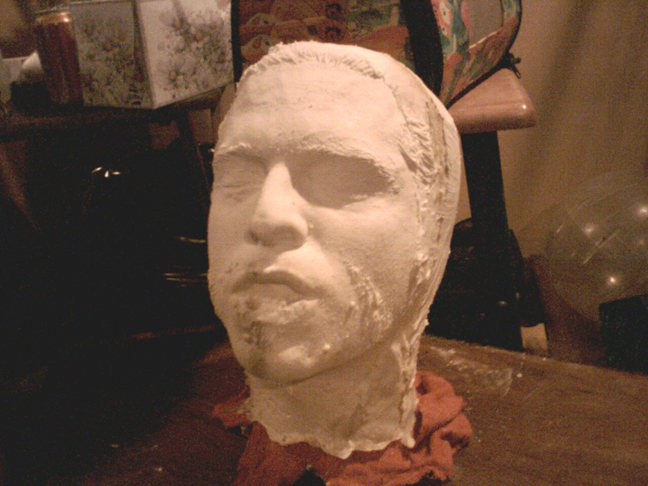 Prices vary, based on materials + time.
*coming soon* New Jersey studio closed. Austin Studio under construction.
Studio Space
Need a sound stage and chroma screen to shoot your next special effects composite, or backdrops and photography strobes for your next photo shoot? Mar Omega UNLIMITED has been building a chroma studio to suit those needs. We can rent you the space and help you with the lighting. We also have special effects, chroma key and animation software that work great with the blue and green screens if you want the Sfx expertise of Mar and Kyra Omega on your film.
Studio Page Coming Soon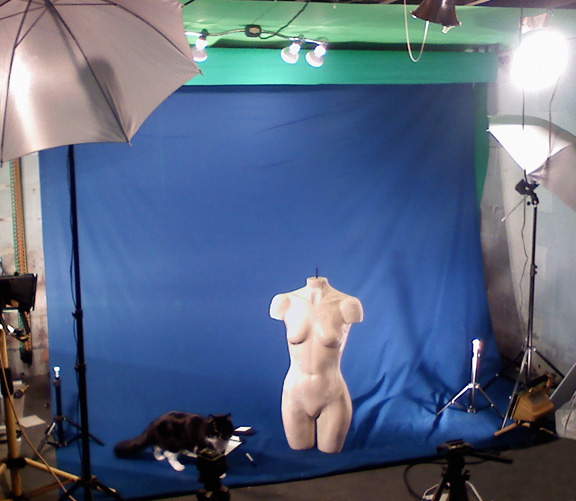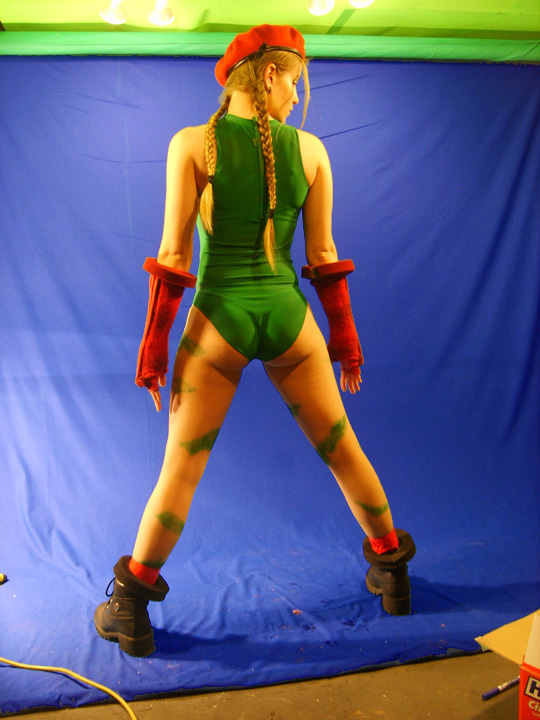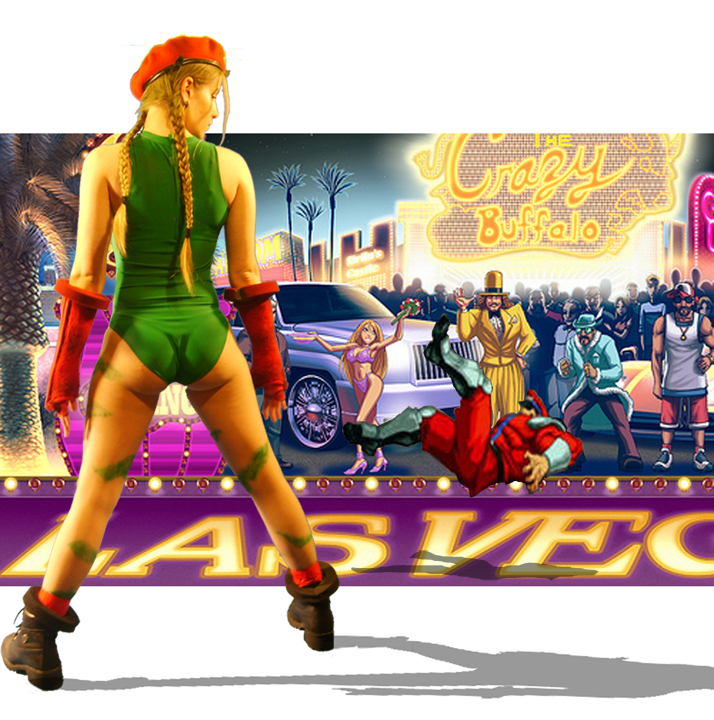 Prop Rental
Mar Omega UNLIMITED has several props at their disposal for use in film and theatrical performance. This stockpile is now available to rent as individual units or in batches. Browse the Mar Omega UNLIMITED Prop Rental Catalogue to see if the prop you need for your next endeavor is available. If you do not see what you need, call and inquire. There may be several props not yet listed.
Guns non-firing plastic replicas of several handguns, assault rifles, machine guns and shotguns.
Hero Swords sword replicas, most of which are 440 stainless steel copies of fantasy weapons and historical weapons. These are for show only and not to be used for striking against other objects.
Stunt Swordshigh carbon steel flat swords for long shots. They can take high impact.
Skulls and Gothic skulls, candles, gargoyles, dragons and other gothic set dressings.
Stocks, Shackles and Chains wooden stocks, plastic or metal chains.
Prop Rental Catalogue Coming Soon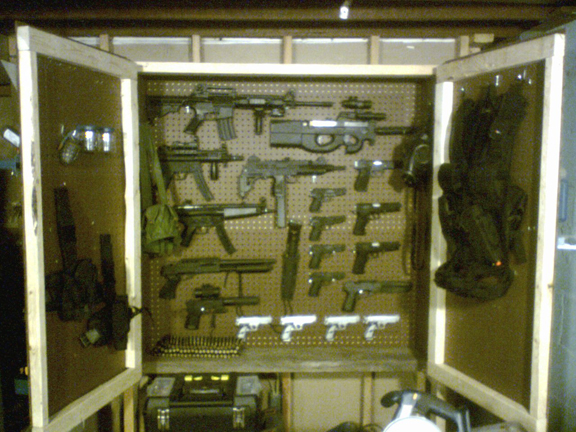 Prices based on props, quantity and time rented with security deposit.
Make a Movie Birthday Bash
Mar Omega UNLIMITED makes your kid the star of his/her own movie! This is great for birthday parties and special events where you want your kid and his/her friends to make a memory they can watch for years. We have several scripts to choose from, or pitch your own scene idea. Using their filmmaking skills and special effects technology, Mar and Kyra can shoot the short film in around 2 hours, then edit the film and add effects within about 2 weeks.
"What do you mean by special effects?" In the film, they can give your kid super powers such as shooting lightning or fire from their hands, teleporting, flying, turning invisible, use laser swords, etc. And the location can be changed or giants or monsters can be added if the script calls for it with a portable green screen.
This service is not necessarily for children only. Teens and adults enjoy movie magic as well!
Make a Movie Birthday Bash Page Coming Soon
Side Show and Party Entertainment
Mar Omega is a highly-trained Side Show entertainer and Kyra is his extremely talented apprentice. They perform fire acts, danger acts, escape arts and even some comedy magic. Below are some of the acts they can bring to your next party or event. Both performers are trained professionals and safety is their first priority, followed closely by dazzling performances.
Fire Eater duet fire act that can be set to the tone of your party.
Bed O' Nails Mar Omega lies on a bed of nails while Kyra selects audience members to stand on him and then breaks a cinder block on his chest with a sledge hammer.
Straight Jacket Escape Mar Omega breaks out of a

real

straight jacket as the audience counts down.
Stilt Walker Mar Omega parades around on stilts for your party or event. Several costumes are in the works. (coming soon)
Comedy Magic Lady Kyra performs magic or childrens' or adult varieties.
See Side Show Entertainment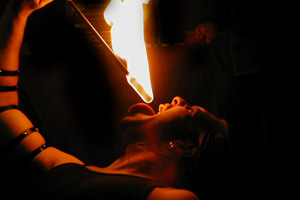 Prices vary, based on acts. Ask about combo package deals.
© 2000 - Mar Omega. All Rights Reserved.